Mirabile Antonio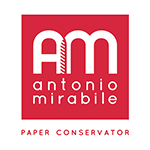 Antonio Mirabile began his career in 1988, he is a paper conservator and a consultant in preventive conservation. He studied conservation in Florence and in Paris, where he actually lives. In France he is accredited by French Ministry of Culture to conserve and restore the cultural heritage belonging to the Musées de France.
He works regularly for public and private collections mainly those consisting of modern and contemporary art on paper and architecture drawings. As UNESCO expert he worked in various paper conservation projects in Yemen, Egypt, Mongolia, DPRK, Uzbekistan and Mauritania. Today he shares his professional activities between preventive conservation assignments, paper conservation treatments and scientific research in particular as partner of EU funded project NANORESTART, APACHE and GREENART he is involved in the development of innovative methods in order to improve conservation treatments and in the organization of the dissemination activities.
Beside he teaches, via short trainings and master classes, paper conservation and preventive conservation in various Universities. He is the author and co-author of about 80 articles and wrote two handbooks published by UNESCO. He is an active member of INCCA and ICOM.
ROLE IN THE PROJECT
Antonio Mirabile (AM) will contribute to the project mostly in the assessment, dissemination and training activities. He is actively involved in the definition of criteria and in the selection of cultural heritage materials that will pass the tests of the chemical marker and will undergo the digital identity.
AM will work in close collaboration with T-UCC, and all museum partners, in the specification of the architecture of the wireless technology and in its compatibility with the artworks' materials. He will assess the chemical marker solution and the embedded wireless tracking system by bringing together the novel methods and technologies and their consistency with the professional conservation ethical guidelines with its historical, artistic, material, significance and temporal scale considerations.