Tyndall Institute – University of Cork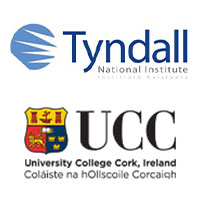 T-UCC is a leading European research centre in integrated ICT hardware and systems and a research flagship of University College Cork. Researchers at T-UCC work with industry and academia to transform research into products in core market areas of communications, agri-tech, energy, environment and health. As the national institute for micro/nanoelectronics and photonics, T-UCC employs over 450 researchers, engineers and support staff, with a cohort of 120 full-time graduate students. T-UCC is home to a high-tech national research infrastructure unique in Ireland and is a national research asset. Hosting the only full CMOS, Micro-Electronic-Mechanical Systems (MEMS) and III-V Wafer Semiconductor fabrication facilities and services in Ireland, T-UCC is capable of creating opportunities and prototyping new products for its target industries.T-UCC is host of the SFI centre of excellence in communication IPIC and involved in three more national centres of excellence (CONNECT, CONFIRM and VISTAMILK).
T-UCC is also a lead partner in European research programmes in electronics and photonics and their integration into smart systems with applications in communications, agri-tech, energy, environment and health. In H2020, T-UCC  has delivered value to European research in 97 projects so far (16 as coordinator). UCC is an award-winning institution with a history of independent thinking stretching back over 170 years. UCC is proud to be ranked in the top 2% of universities in the world and is proud to hold a HR Excellence in Research Award and an Athena SWAN Bronze Award.
ROLE IN THE PROJECT
pecific Objective (SO2): Design a miniaturized device enabling the traceability of cultural goods artworks using Wireless Sensor Network (WSN) technology.​
Embedded hardware and software development 

​

Antenna design, fabrication and test

​

Final system development

​
T-UCC@NTG ​
Development of (nano)materials displaying fluorescent/phosphorescent readout and assessment of their suitability as: ​
Anti-counterfeiting materials 

​

Chemical Tags, fabrication and assessment

​